Hey kids, do you like meatballs?
Do you like jokes? Well then, you're in for a treat! We've got meatball jokes for kids!
Here are some hilarious meatball jokes for kids that will have you laughing up a storm.
So get ready to giggle, chuckle and laugh your way through this collection of ridiculous meatball jokes. Enjoy!
Kids love meatballs, so why not give them some jokes about meatballs to enjoy too!
Kids will have a meatball-rollicking time with these hilarious jokes!
From perfectly hilarious jokes and puns to riddles, there's something sure to get them giggling.
What did the spaghetti say to the meatball at the dinner table? Pasta sauce!
Where does spaghetti go to dance? The meatball
How can a meatball be different than a meteor? It's more meatier!
What's the difference between boy spaghetti and girl spaghetti? Meatballs
What is another word for meatballs? Protein circles
Why did the spaghetti and meatballs have to go to bed?  Because it was pasta bedtime....
What do you call vegan Swedish meatballs? Meatlike Swedeballs
Why is it awesome to be like Italian meatballs? Well seasoned and well rounded...
What do you call ground beef balls and very little sugar? Sweet-ish meatballs
Where do the poor meatballs live? The Spaghetto
What is it called when a person cries over vegetarian spaghetti? Meat bawl
What would you get if you crossed pasta with a snake? Spaghetti wrapped around a fork!
What do you call a sad noodle? Upsetti spaghetti!
Have your little ones heard the one about the curious cow?
It udderly asked why meatballs were so round.
Well, it turns out they're round so they can roll away - and that's no yolking matter! And if you want to share an even sillier joke, try this one on for size:
Why didn't the tomato make it to the meatball party?
He was too 'squished' to go!
With loads of punny laughs like these, kids will love having some fun with their favorite dish.
Here are some hilarious meatball jokes that will have your kids laughing out loud:
Meatball jokes don't have to be a washout!
If your kids are looking for a laugh, try these meaty gems out on them: what did the mommy meatball say to her son?
"Don't stay out too late!", and why don't cannibals eat clowns?
Because they taste funny of course!
Your kids will be rolling in laughter at these salad-spicing jokes.
And if they want more, just ask them what type of music do meatballs listen to? Spaghetti-westerns!
"Why did the chicken cross the road? To get to the other side of the meatball!"
One of the most enduring questions posed in philosophy and literature alike has been, 'Why did the chicken cross the road?'
And while there is no definitive answer, it's safe to say that this new version of the classic query provides some much-needed comic relief.
After all, who could stay seriously asking why a chicken would traverse a rural highway looking to get to the other side of Italian snack food?
It might just be one of those jokes without any logical answers yet still filled with whimsical charm.
Food for thought, perhaps - we think we can safely say that crossing road to find meatballs is definitely not advised.
Ah, the joys of pasta bedtime!
When late-night cravings hit, you can't go wrong with a heaping plate of crossed pasta covered in tomato sauce or savory meatball marinara.
And be sure to add in some Italian loaf on the side for an unforgettable experience.
But watch out – if the wrong sub makes an appearance it could ruin your epic night of noshing. Italian sausage and German sausage mixed together?
No thanks! Instead, opt for a delicious pastrami sandwich and make sure it's a real Meatball Joke - that'll have you laughing until bedtime!
What do you call it when pasta and sleepover collide? A pasta bedtime of course!
Whether it's a boy with spaghetti curls or a meatball marinara sandwich, nothing says Italian fun like a funny joke.
And if your Italian loaf gets crossed along the way, at least you can always get a great deal on some tomato or pasta sauce to make that wrong sub right again!
You might even be able to find that special German sausage all the way in your local sandwich shop - no joke!
💡
NutmegsNook is excited to bring you this list of amazing products! We've hand-picked each item on the list, and we're confident you'll discover your new favorite product among them.
💡
NutmegsNook may collect a share of sales or other compensation from the links on this page if you decide to buy something, but all opinions in this article are our own. So go ahead and treat yourself to something new and enjoy something wonderful!

"I Cooka Da Meatball Meme Funny Trending Italian Slang Joke T-Shirt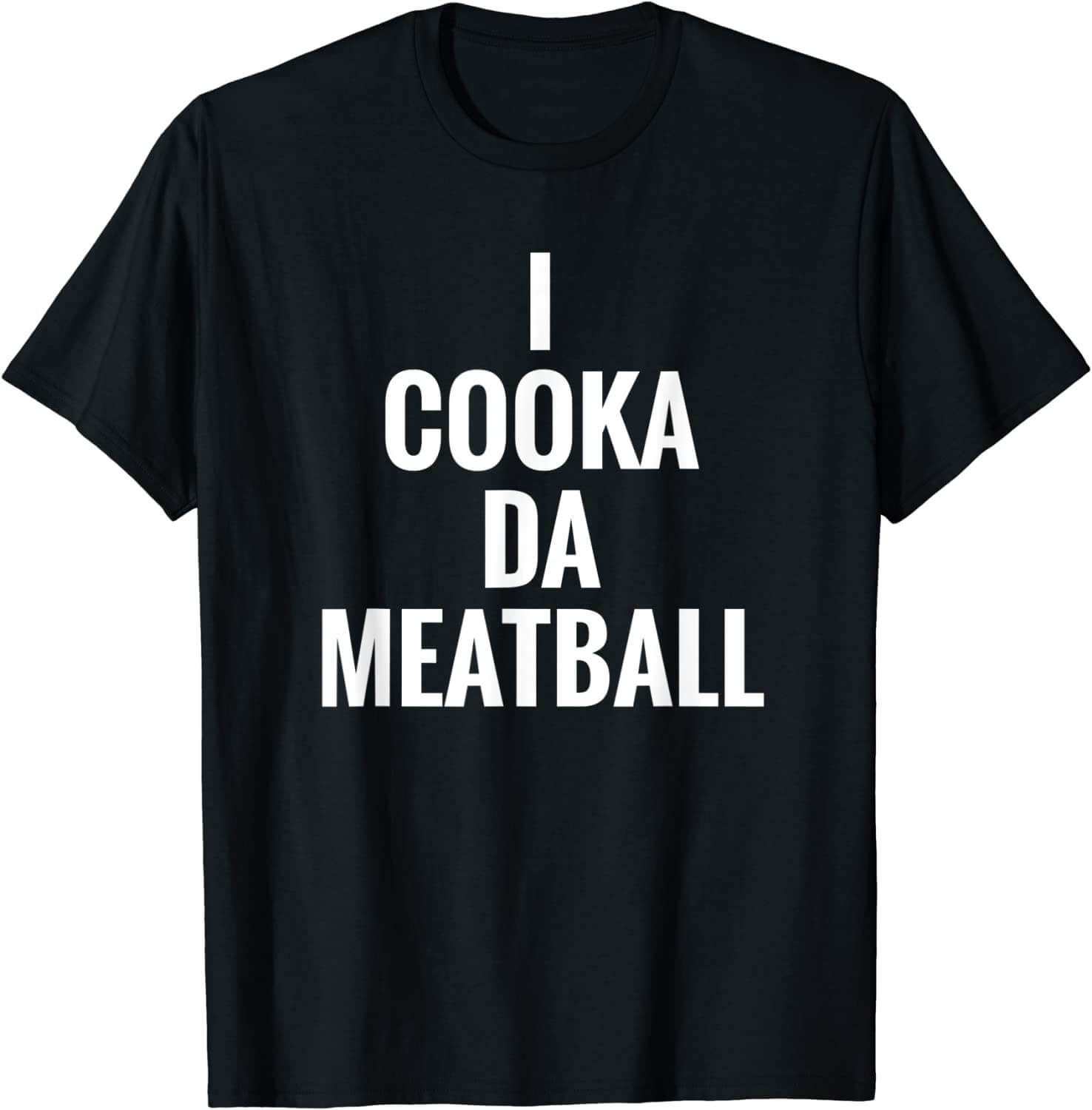 Best Meatball Shirt
I Cooka Da Meatball Meme Funny Trending Italian Slang Joke T-Shirt
Check price on Amazon!
What's Amazing!
Attract all the laughs with this awesome I Cooka Da Meatball meme funny trending Italian Slang joke t-shirt!
This hilarious t-shirt is perfect for anyone who loves memes and trends. It's made from a cotton/poly blend that is lightweight, comfortable and durable - perfect for everyday wear or standing out at any event.
And you don't have to worry about it shrinking when you wash it - just pull the strings and pop it in the machine.
What's Impressive!
Show off your awesome sense of humor with this I Cooka Da Meatball meme funny trending Italian Slang Meatball jokes t-shirt!
Get yours today, and have fun being the life of the party!
Why did the turkey cross the road? To get to the other side of the gravy!"
Ah, that age-old wonder! Why DID the turkey cross the road?
In our wildest dreams, we could never have expected the answer to be the quest for more gravy - which explains why it was left so long unanswered!
Without a doubt, this humorous one-liner is sending everybody into fits of laughter and rightly so; crossing a road is no laughing matter but the introduction of gravy certainly takes things in a lighter direction.
While none of us are likely to be ever blessed with an insight into this magnificent creature's thought process, we can certainly chuckle at what was surely a very serious affair at some point in history.
"Why did the duck cross the road? To get to the other side of the pond!"
It's the age-old question that continues to puzzle scientists and philosophers alike - why did the duck cross the road?
The answer is more obvious than some of us think, it was a direct route from point A to point B!
Why swim across the entire pond when you can waddle across?
We can all take a lesson from this little duck; sometimes taking the road less traveled might be faster - and more pleasantly surprising!
Who knows what other adventures lie on the other side?
With this slightly sarcastic quip, we should remind ourselves that anything is possible on our journeys through life, even a simple trip crossing a street.
How do you hurt a hamburger patty's feelings? Call it a meatball!

Where do hamburger patties like to dance? AT the meatball!
If you're looking for where hamburger patties like to shake their buns, look no further than the "meatball!"
At the meatball, these awesome patties can twist and twerk the night away, all to the sound of sizzling and popping on a hot grill.
Let's be honest- it's hard to keep a patty in one spot when grooving and that doesn't matter here since hamburger patties jump and swing from bun-to-bun making sure that everyone has a good time! Meatball Sandwich!
Maybe even some special sauce or meatball recipe will appear so the party is guaranteed to continue all night long!
Giant Meatball Stress Ball
What's Amazing!
Introducing the most awesome stress ball around, the Giant Meatball Stress Ball!
This spaghetti and meatball-themed giant stress ball is out of this world. Perfect for anyone aged 8 and up, it's safe and built to last with its high-quality TPR material (however, it may irritate those with a latex allergy).
It comes as two separate pieces - one massive meatball and one long strand of noodles - that can also be put back together quickly when you're ready to squeeze some relief away.
What's Impressive!
With an approximate ball diameters of 5" (12.7 cm), an approx. noodle length of 9.5" (24.13 cm), and an approximate weight of 13 oz. (368.54 g) the Giant Meatball Stress Ball is the perfect companion to help you relax after a hard day's work!
So get ready to impress your friends, spark conversation, and take stress relief to the next level with the Giant Meatball Stress Ball - it's just too awesome not to have in your life!
Obnoxious Italian Jokes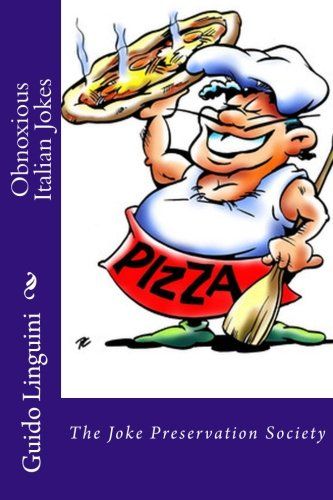 Best Italian Meatball Jokes
Check price on Amazon!
What's Amazing!
Obnoxious Italian Jokes by Guido "Meatballs" Linguini.
Do you love the hilariously crude jokes that have been around for centuries, passed down from generation to generation?
This book will take you back in time with traditional ethnic humor so good it'll leave you in meatball subs like an Italian neighborhood!
What's Impressive!

Laugh along with this brilliant selection of hilarious one-liners and side-splitting observations about Italian jokes, collected and brought to life for your reading pleasure by the genius Guido "Meatballs" Linguini.
His membership in the Joke Preservation Society shows his dedication to the craft and will surely bring you some amazing laughs.
To help make sure these beloved jokes are remembered far into the future, pick up a copy of Obnoxious Italian Jokes today and guarantee yourself an awesome time!
OK, here's one more poor meatball song! Do you remember this song?
On top of spaghetti
All covered with cheese
I lost my poor meatballs
When somebody sneezed.
It rolled off the table
And onto the floor
And then my poor meatball
Rolled out of the door.
It rolled in the garden
And under a bush
And then my poor meatball
Was nothing but mush.
The mush was as tasty
As tasty could be
And early next summer
It grew into a tree.
The tree was all covered
With beautiful moss
It grew great big meatballs
And tomato sauce.
So if you eat spaghetti
All covered with cheese
Hold on to to your meatballs
And don't ever sneeze.
Do you remember where poor meatballs live? The spaghetto
If you're looking for some meatball quotes, funny jokes and a good laugh, look no further than these meatball jokes!
Your kids will surely enjoy them - and who knows, maybe they'll even start telling their own funny jokes.
So round up your family and friends, gather everyone around, and prepare to have a wonderful time laughing together.
Ya'll have fun!
For more ridiculous kid jokes ..